John C. Watson, III, CLU, ChFC, AEP, RFC
John C. Watson, III
j3@221basllc.com
John C. Watson, III has over 44 years experience in the financial services industry, affiliating with Provident Mutual on April 1, 1979. In 2007 he affiliated with The Penn Mutual Life Insurance Company and its wholly owned broker-dealer subsidiary, Hornor, Townsend and Kent, Inc., (HTK).
He is Life Insurance Licensed in the States of Alabama, Arizona, Arkansas insurance license #239311, California insurance license #OB04901, Colorado, Connecticut, Delaware, Florida, Georgia, Illinois, Indiana, Iowa, Kentucky, Louisiana, Massachusetts, Mississippi, Missouri, Montana, New York, North Carolina, Ohio, Pennsylvania, South Carolina, Tennessee, Texas, Utah, Virginia, Washington, West Virginia, Wisconsin, Wyoming.
He specializes in utilizing the varied strategic uses of Life Insurance to address, in partnership with a client's legal, accounting and financial professional in a collaborative manner to meet their individually tailored financial needs and objectives. John works closely with and for high net worth individuals, families and their advisors throughout the wealth transfer process. He helps guide companies through Executive Benefit and Succession Planning.
Additionally, his practice focuses on the unique planning objectives of the Physician Marketplace; on Business / Corporate Insurance Strategies as well as in the Family Wealth Transfer marketplace.
John joined Boy Scout Troop 203 in Greensboro, NC in 1966. He earned the God and Country Award in 1968, was a member of the Order of The Arrow and achieved the rank of Eagle Scout in 1969. And remained associated with the Troop for 55 years until it disbanded in the summer of 2021.

He holds the designations of Chartered Life Underwriter (CLU), Chartered Financial Consultant (ChFC), Accredited Estate Planner (AEP), Registered Financial Consultant (RFC) and he is an Investment Advisor Representative with Hornor, Townsend, & Kent, LLC. He holds the Series 6, Series 63, Series 65, and Series 7 securities' registrations.

He is a member of the Society of Financial Service Professionals (SFSP), Finesca [formerly the Association for Advanced Life Underwriting (AALU)], the Million Dollar Round Table (MDRT), the International Forum (IF), The International Association of Registered Financial Consultants (IARFC), The International Association for Financial Planning (IAFP), The National Association of Insurance and Financial Advisors (NAIFA) , The National Association of Estate Planners and Councils (NAEPC) and is a past President of the Greensboro Estate Planning Council. He served on of the Board of Directors for Finesca (AALU) 2013 - 2018.
John has been a featured speaker within the financial and advisory services industry. He is also a contributor to and author of numerous articles within industry publications.

He is a contributing author of the following books; Wealth: Enhancement & Preservation; Ways & Means: Maximize The Value of Your Retirement Savings; 21st Century Wealth: Essential Financial Planning Principals and Love, Money, Control: Reinventing Estate Planning.
John was a member for 13 years of the Nationwide Financial Network (Formerly Nationwide Provident / Provident Mutual Life Insurance Company) Presidents Club (established in 1994). He qualified for the Premier Club and Sales Conference (formerly Top-50 and the Provident Mutual Leaders Association [PMLA]) each year from 1981 - 2006. He served on the Agent's Advisory Council from 1988 – 2007, serving as President from 1990-1992 and from 2000 until retiring from the position in 2007. He was the recipient of Provident Mutual's 2001 Boris Todorovich award (the last year that the award was given), the 2004 Nationwide Provident Presidents Prestige Award and was the 2004, 2005, & 2006 Nationwide Financial Network (formerly Provident Mutual) leading Producer / Advisor.
For the calendar years of 2008 and 2009, John was recognized as the leading producer for Penn Mutual's Career Agency System, being awarded the prestigious Gold Medal each year. For calendar year 2010 and 2011, he was awarded with Penn Mutual's Silver Medal. For calendar year 2015, he was awarded Penn Mutual's Bronze Medal. In March, 2011, he was named as Penn Mutual's Financial Professional of the Year. In June 2018, he received Penn Mutual's Walter J. Scott Distinguished Service Award. He currently serves as President on the Executive Board of Penn Mutual's National Advisory Council, Board of Directors. He is a member of the Penn Mutual STAR Study Group.
In 2022 and again in 2023, John was recognized by Forbes.Shook Research as a Best in State financial security professional.

John is married to his wife of 40 years, Laurie. They have a son, John, IV (wife Tracy and daughter Ridley) and a daughter, Madison (husband Austin).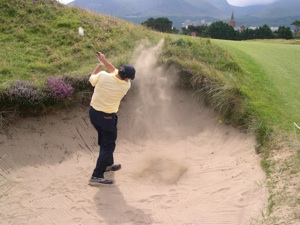 "Strategic Planning is full of financial hazards - My job is to help you avoid them and / or to manuever out of them in an efficient and effective manner."
17th Hole
Royal County Down
Newcastle, County Down, Northern Ireland